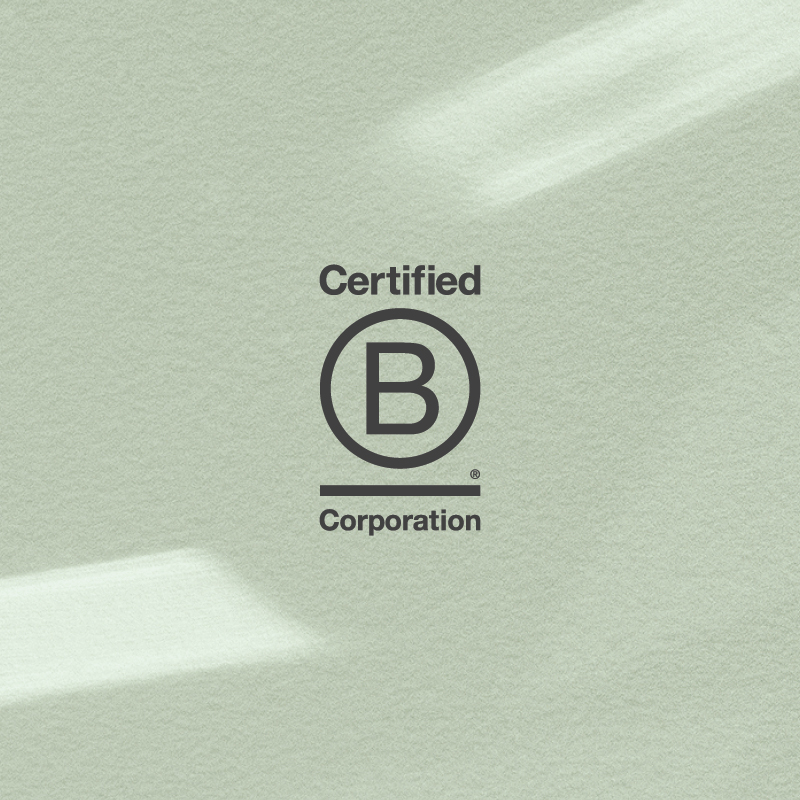 Kerakoll, the global leader in the building sector, achieves B Corp certification.
Sassuolo, 26 July 2023 – Kerakoll has become one of the first companies in the construction sector to achieve B Corp certification.  Already the leading Benefit Company in the field of sustainable construction, Kerakoll is one of the building industry's top players globally.
This important ESG (Environmental, Social and Governance) milestone for Kerakoll represents the evolution of a long history of green building into a new corporate model in which business is seen as a positive force for the production of economic, social and environmental value.
This latest step in Kerakoll's history, achieved with the help of NATIVA, began when the Group became a Benefit Company in September 2021. Certification has meant the inclusion, among the company's declared objectives, of specific common social and environmental benefits, to be pursued in parallel with profit.
The process assessed the Kerakoll Group's overall impact by evaluating its activities in all 11 countries where it operates, divided into five areas of interest: employees, governance, community, environment and customers. Kerakoll's B Corp assessment revealed the following virtuous aspects:
governance systems based on ethical principles and transparency,
employee wellbeing (working conditions, health and safety, people engagement and satisfaction),
personnel development opportunities (a culture based on merit and equal opportunity, with a turnover below 2%)
constant support for non-profit organisations in the communities where Kerakoll operates, and the screening and evaluation of suppliers and partners for positive social and environmental practices
respect for natural resources according to circular economy principles such as the use of recycled materials, the reclamation of areas of nature and the use of energy from renewable sources
the gradual elimination of chemicals and VOCs (Volatile Organic Compounds)
ecological product design and sustainable logistics based on intermodal transport systems.
B Corp certification – issued by the B Lab international body – recognises an organisation's commitment to respecting the strictest standards of social and environmental performance, transparency and responsibility, its commitment to measurably improve its impact on employees and on the communities and environments where it operates, and its determination to continuously improve practices and processes and to spread a culture of inclusion and regeneration.
Only 240 Italian companies are currently B Corp certified. Over 7000 have completed the process worldwide.
"We are proud to be one of the largest B Corp certified companies in Italy and one of the first in the building sector to join a global movement of market leaders moving in the same direction as us," declared Fabio Sghedoni, Vice President of Kerakoll. "This certification demonstrates our determination to promote a company culture supported by ESG, as well as our desire to serve as a catalyst for change in the building industry. We want to show that it really is possible to build a better future, in which we can develop in harmony with our surroundings and promote the wellbeing of the people and communities with whom we work."
Eric Ezechieli, co-founder of NATIVA, the Regenerative Design Company that helps businesses take the radical step of transitioning to a regenerative economic model and which guided Kerakoll in its journey to sustainability, confirmed: "It's essential to make sustainability central to your company strategy today, but it still represents a challenge. This challenge is even greater in complex sectors like the construction industry. We congratulate Kerakoll on the genuine commitment that shareholders, managers and employees all around the world have shown over the years in introducing strategic innovation and achieving tangible results in the field of sustainability. We are confident that Kerakoll will continue down this path in coming years and will inspire many other companies to move in the same direction."
* * *
KERAKOLL GROUP
Kerakoll is a leading, B Corp certified, international Benefit Company specialising in sustainable construction. We offer global material and service solutions for buildings and lifestyles that respect the environment and human well-being.
Kerakoll has enjoyed constant growth on the domestic and export markets for building materials ever since 1968, when Romano Sghedoni first formed the Group in Sassuolo, at the very heart of the world's largest ceramic production district. Today, our Group is undisputed leader in green construction thanks to internationally acclaimed technology.
Kerakoll registered a turnover in excess of 600 million euros in 2021, over a third of which came from exports. The Group gives work to around 2,000 people, between employees and contractors. Kerakoll is directly present in 12 countries and has 17 production plants in Italy, Spain, Poland, Greece, France, the UK, India, Brazil and Portugal.
For further information: www.kerakoll.com