"With this first impact report
we want to put Kerakoll's commitment
to sustainable growth on paper."
Fabio Sghedoni, Kerakoll Group's Vicepresident
Impact relation
A new era
of responsibility
Sustainability has always been the compass that has shown us how we should do business, from the development of products for healthy buildings built in harmony with the environment, to packaging, from transport to services, to our community of associates. 
The constant search for quality is the guiding light for all the Group's choices, investments and initiatives. In order to achieve this goal, people and their involvement are the essential elements. 
Browse our first
impact report
In the impact report you will find information about our 9 mutual benefit goals, which combine business with the principles of social and environmental sustainability:
1. Greenbuilding (circular economy, product sustainability certifications, environmental labelling)
2. Product rating (GreenBuilding Rating, LCA studies according to EN 15804, Sustainability Life Cycle Assessment)
3. Innovative processes (sustainable logistics, energy from renewable sources, company fleet, recovered waste)
4. Strategic partnerships (innovative building solutions, qualification tools)
5. Scientific research (circularity measurement indicators UNI/TS 11820, CEN/TC 467 Technical Committee on Climate Change, Life NanoExplore project, Green Week – Le Fabbriche della Sostenibilità – Sustainability Factories)
6. Safety (healthy products for the environment and people, indoor air quality monitoring, health crisis management)
7. Associates' well-being (working environments, remote working, diversity and inclusion, engagement, schedule flexibility, Kerakoll Squad newsletter)
8. Pathways to growth (introduction of S.M.A.R.T. goals, Performance Management Process activation, training on social and environmental issues)
9. Civic engagement (Rock No War, Il Melograno solidarity emporium, Andrea Bocelli Foundation, Le Luci di Comete – Comet Lights)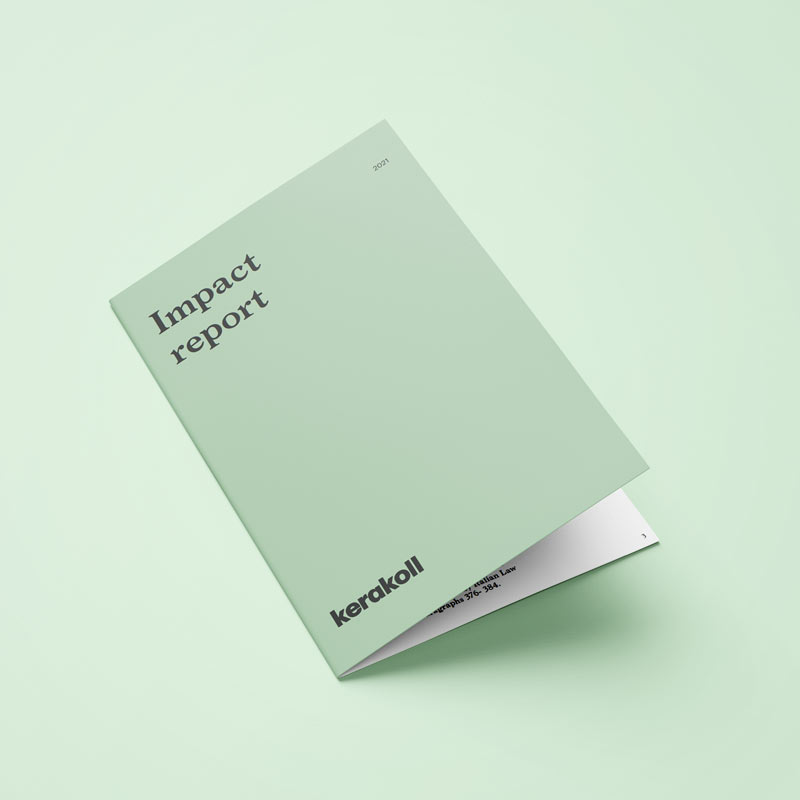 About our commitment
Achieved results
and future goals
With this document we are making our sustainability performance transparent for the first time and communicate Kerakoll's future goals. Download now our 2021 impact report.
Download PDF