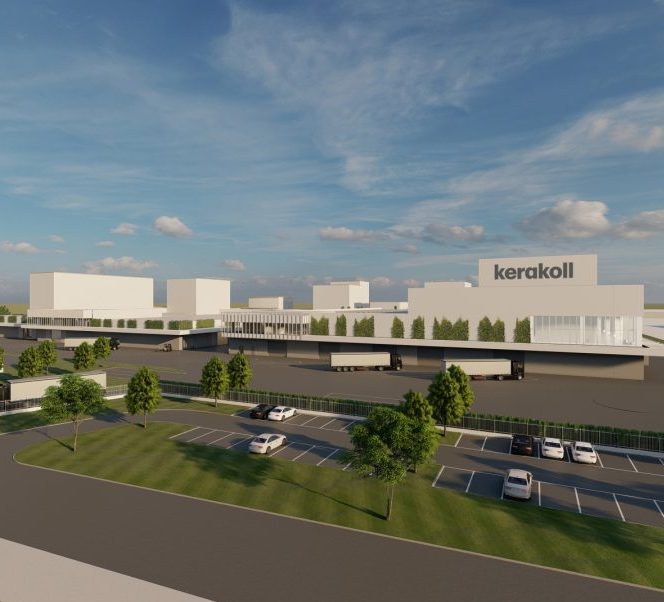 The project is due for completion in 2025, will cost over 100 million euros, and will create jobs for over 100 people by 2030.
The complex will include a new production plant, warehouses, and a multi-purpose service area designed with environmental sustainability and personal well-being.
Sassuolo (MO), 29 March 2023 – Today saw the go-ahead given for the construction of a new Kerakoll industrial complex, the 18th in the world. The site is located alongside the Group's existing production plant and the Kerakoll GreenLab research center, in the heart of the Italian ceramic district.
The new complex will occupy over 26,000 sqm of an 8-hectare site acquired by the group in 2011, in Sassuolo, near Modena, in northern Italy. The project, costing over 100 million euros and scheduled for completion by 2025, will effectively double production capacity.
The new site will include a new production plant dedicated to the Group's sustainable building products along with a raw materials warehouse, a high-density warehouse for finished products, and a service area with new multi-purpose spaces. According to estimates, the new plant should produce a total of 325 million kg of finished product a year by 2030. It will also generate new employment with over 100 new jobs, especially in the areas of R&D and production, by the same year.
"We are particularly proud of this new complex," declared Fabio Sghedoni, Vice President of the Kerakoll Group. "It represents a major investment for Italy, and means we are putting our faith in the country. It also shows, once again, that Kerakoll is committed to the production of sustainable building materials that respect the environment and improve personal well-being. We want our new industrial complex to serve as an innovative model for production in our sector. We have put a great deal of effort into designing a place where people can live and work happily. There will be communal spaces and service areas too, including a training center and catering facilities."
The new site will also have a positive impact on the community and the surrounding area as it will see the regeneration of a disused area along the road into the Sassuolo ceramic district. Kerakoll believes in refurbishing and regenerating existing buildings as a more sustainable approach than new construction. In keeping with the Group's status as a benefit company, the new complex has therefore been designed using criteria inspired by innovative technology, environmental sustainability, and the inclusion of green areas in urban architecture.
For example, the project will see the installation of 7,670 sqm of photovoltaic panels producing 1.6 MW of energy, leading to an estimated saving of 840 tons of CO2 per annum; 27,000 sqm of green area will be provided and around 140 trees planted.
The product range manufactured at the new complex will include adhesives for ceramic and natural stone floor and wall coverings, cementitious grouts, special hydraulic binders, mortars and special products for the restoration of concrete structures, dehumidifying mortars for repairing brick buildings, screeds, waterproofing and damp-proofing products