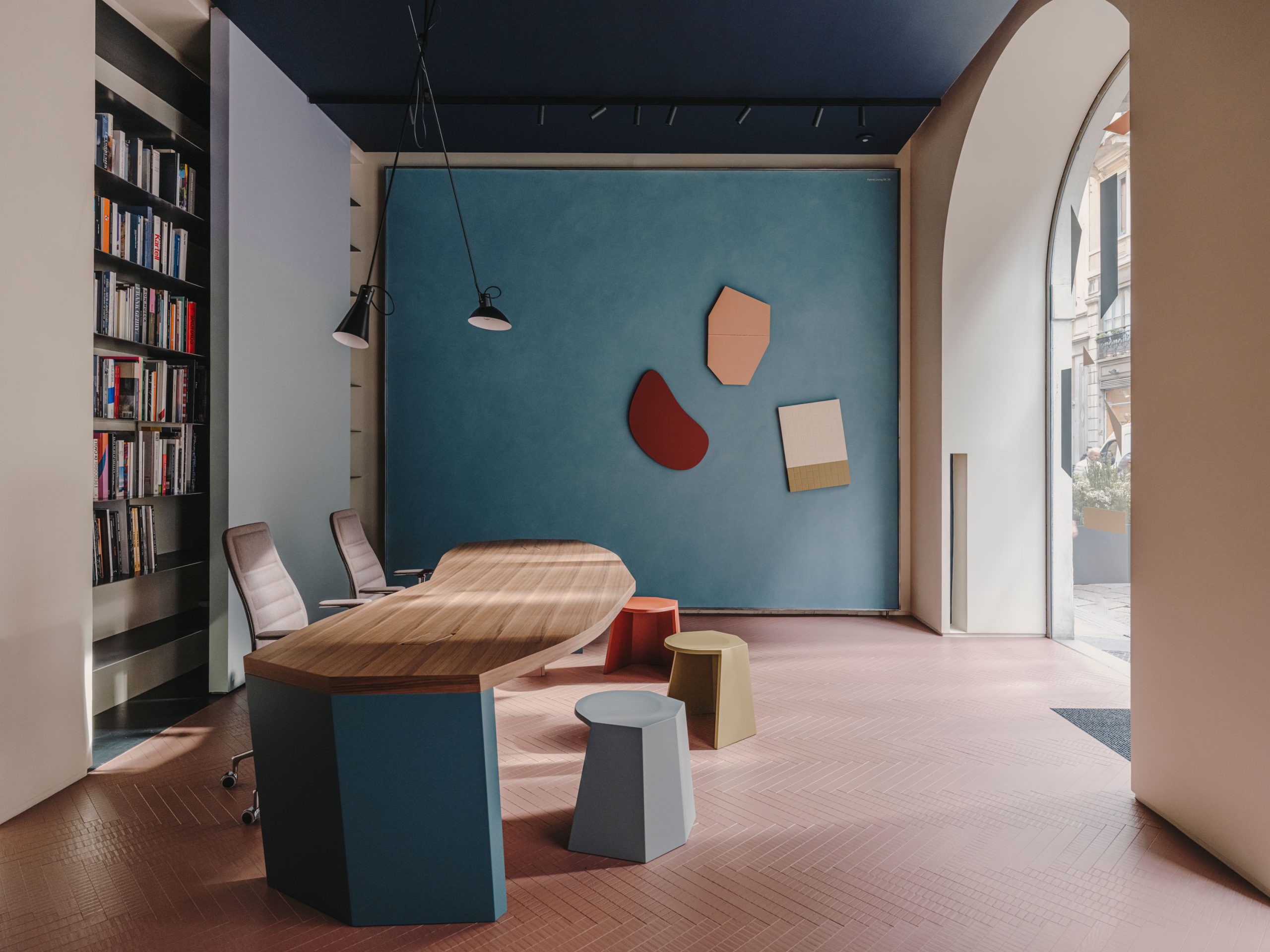 Our Milan showroom's new décor explores the concept of stratification as a sustainable approach to design and features existing structures renewed using Kerakoll colours and surfaces.
Milan, April 17th, 2023 – To coincide with Milan Design Week 2023, Kerakoll proudly presents Strato, a new showroom concept in the heart of Brera. Strato is signed by Martino Gamper, one of the most original and poetic designers on the international scene today. The project explores the concept of stratification, interpreted as the renewal of existing surfaces and clearly reflects the philosophy of Kerakoll, the leading international Benefit Corporation in the field of sustainable construction.
"I came up with the idea for Strato while wondering how to restyle the Kerakoll showroom in Milan. My idea was to play with the past and present, using the architecture of spaces and a whole range of colours to create a new future" explains Martino Gamper. "The shapes I imagined have become furnishings that speak a plain, geometric language but still conceal great complexity in their lines and divisions. I chose this mix of elements, achieved using Kerakoll colours and woods, as the best way to create a new, stimulating, and interactive environment for visitors."
With Strato, Martino Gamper leads us to reflect on the objectives of design today. With society facing increasingly urgent ethical and environmental imperatives, design should not feel constrained to create new objects constantly but rather inspired to recover and valorise what already exists, in a process of potentially infinite renovation and improvement that benefits from both creativity and technology.
"Conceptually, the Strato project continues down the road that Gamper began to explore with the Plinthos installation he created for our showroom windows last Fuorisalone. Our collaboration has always been based on certain essential values: the careful selection of materials, craftsmanship, a close connection with the environment, and a sustainable approach to design," Alessandro Dondi, Kerakoll's Marketing and Communication Director, adds.
The new showroom concept was chosen to convey the idea of continuously changing space. Just like a living organism, the showroom too can change form to adapt to new contexts and situations. This latest restyling adds greater aesthetic and conceptual depth to the settings on display. The new, elegant and essential look of its spaces uses the colours and surfaces of Kerakoll's Color Collection and Fugabella Color range to offer visitors an exciting, interactive experience.