Kerakoll Greenlab
Scientific research and technology
on the front line
Kerakoll GreenBuilding products are born from thorough scientific research in the field of health and well-being within the futuristic Kerakoll GreenLab, the world's most advanced technology centre for the study and development of new materials for the green building sector.
The Kerakoll GreenLab, a perfect combination of cutting-edge technology and sustainable materials, is the first building in Italy to have been designed and built exclusively using eco-friendly options: an ecosystem in constant balance with the surrounding environment that produces its own energy, collects and naturally filters rainwater, and guarantees the highest levels of indoor air quality and well-being.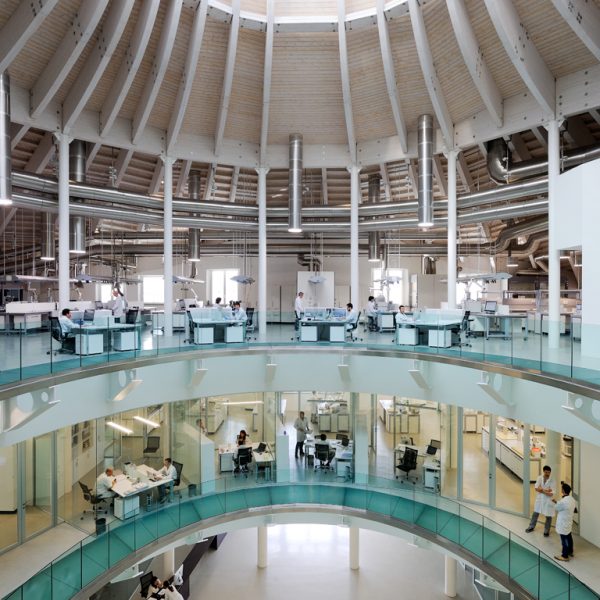 GREENLAB
Kerakoll GreenLab: the present and future of building
The Kerakoll science park, which houses the new Kerakoll GreenLab research centre, is dedicated to research and technological development in the field of green building materials. The futuristic building groups all the Kerakoll group's new scientific laboratories together to form a single research centre, with an exclusive green technology program. Since 2010 the Group's investment in green research has represented 100% of total Research and Development investments, which translates into a constant technological improvement in products, in line with the principles of ecologically sustainable development.
Our commitment in figures
54
%
of turnover is invested in R&D for green solutions
15
million euros
of investment
9
specialised laboratories
140
GreenBuilding researchers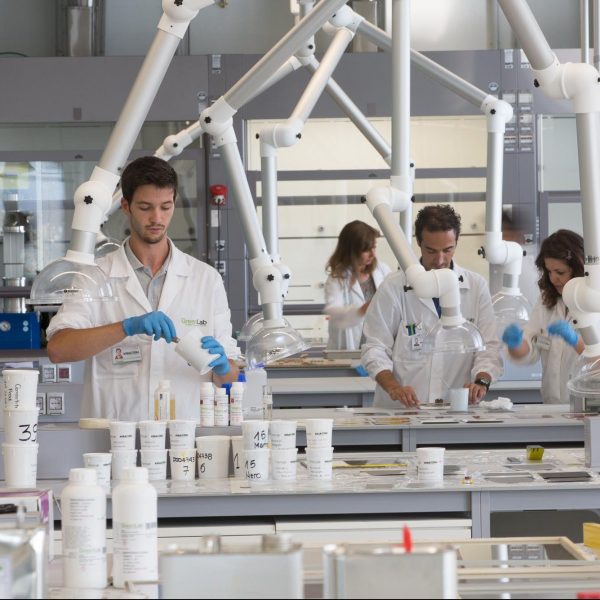 GREENLAB
From the needs of people
to Research and Development
The Kerakoll medical and scientific sector is constantly researching solutions for the need to live in healthy buildings which are kind on the environment; these studies are based on leading research in the biomedical, epidemiological, pulmonary, materials technology, indoor pollutant and environmental impact fields in order to develop innovative solutions for sustainable living. To guarantee the safety of materials and meet the sustainability needs of users, Kerakoll works with academic and scientific bodies, taking part in numerous, important research projects.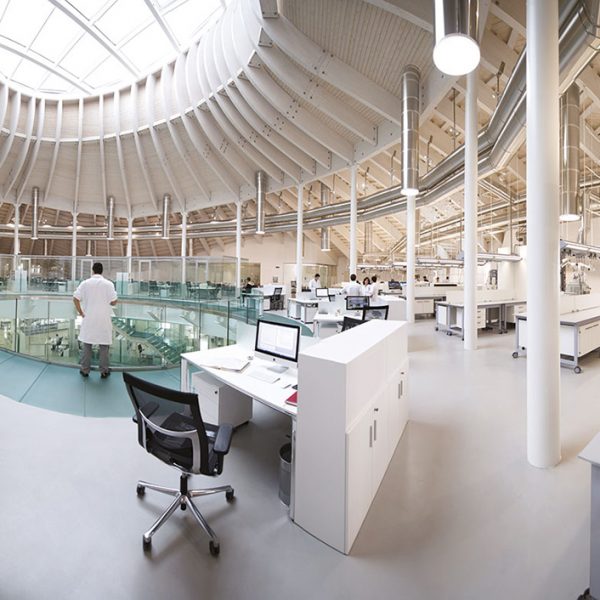 GREENLAB
Kerakoll GreenLab:
world centre of excellence
The building houses more than 1,500 cutting-edge instruments, with several points of excellence including: the Indoor Air Quality (IAQ) Lab for research on emissions and analysis of VOC, with 12 VOC rooms managed via software, constantly in operation and configured for the Indoortron at the Joint Research Centre in Ispra (VA), a European Commission research centre; the Klima Room, the first climatic room in Europe, developed alongside the Engineering Department of the University of Modena and Reggio Emilia (EELab, Energy Efficiency Laboratory), which is capable of determining the actual energy performance levels of a properly insulated wall.